It's Intense.
The Tourney: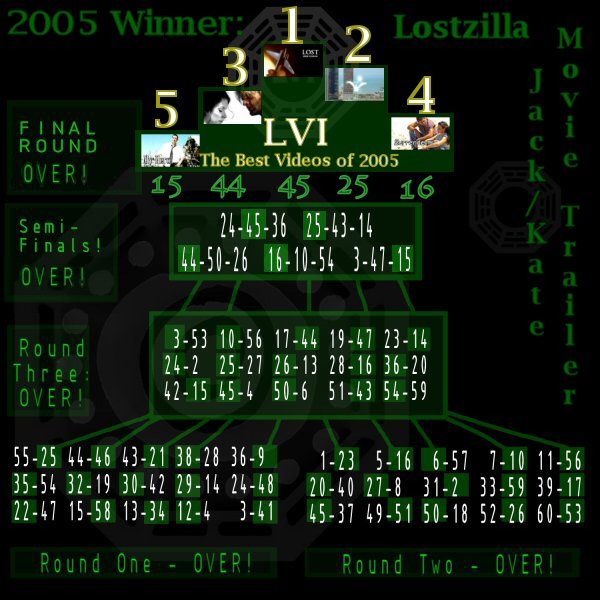 - Back to Anniversary Page
Description:
This 5-week showdown of the best videos on the site is a celebration of the best talent on LVI. While one of these 60 videos will eventually be crowned the best video on LVI, it should be an intense honour to just be listed. The purpose is not just to determine a winner, but to look back on the best videos and enjoy ourselves. But if you made it this far, congratulations, and good luck in the upcoming weeks!
The most unique thng about this tournament is it's not just the council who decides the winner, it's you, our loyal vidders! Anyone with a video that has earned a Council Pick seal may vote in this contest. We've decided the LVI fans have waited long enough for a public vote, and here it is! (don''t screw it up!)
30 of the videos here were hand picked by the council as potential best videos. The other 30 are entries by us and our past council members Jake, Charmax, and Laura. I should add that no prizes will be awarded to the winner, only eternal glory as the best video on a site of hundreds.
We hope to make this an annual event if we get enough participation. A lot of work was put into making this tournament, so make us proud, and vote!
-Hobbes of the LVI Council
Last Round:
The final round was decided, with an unnervingly close vote, and a tiebreaker for second place. The resul;ts were: J/K Trailer - 6 votes, Speed of Sound 5 votes, Nothing Compares to You - 5 votes, Surrender - 3 votes, and My Hero - 0 votes. From there, we held a tiebreaker for the position of second, and anothoer close vote apeared! In the end, Speed of Sound took the position of second due to a lead of 7 to 6 versus Nothing Compares to You. However, this was such a close match, it's almost unfair to leave any out, so all five videos that made it to the final round will be getting award banners for their success in making it this far.
Ending Speech:
Everyone here in the Council is very proud of the results, and the conduct of voting here at LVI during this past tournament. Even with a harsh voting process, pitting some completely different videos against each other, in the end a solid winner was still decided. We'd like to thank all of you who voted or had a video in the contest for all your hard work, and for making such a tricky event as this possible. Once again, you have all proven how great a site can be when everyone puts their minds to it. We hope to continue with events such as this in the future, and wish you all good luck, and good vidding!
By clicking on the numbers in the tournament image, you can jump down to the videos they represent. Likewise, by clicking on the arrow next to a video at the bottom, you can return to the image. Use this to view the standings. By clicking the "VOTE" button, you can continue on to the voting topic for that video (after a quick review of the rules, that is), or Click Here to continue to the voting forum.
The Entrants
(Marked according to what round they were eliminated in)
| | | | | | |
| --- | --- | --- | --- | --- | --- |
| | #1 &nbsp&nbsp&nbsp | Hurley Hills | Wheezer | Hurley video | -13.7 |
| | #2 &nbsp&nbsp&nbsp | Vertigo | U2 | The truth is finally revealed: that polar bear IS everywhere! | -8 MB |
| | #3 &nbsp&nbsp&nbsp | Cry Me A River | Justin Timberlake | An experimental Season 1 character study of Jack, focusing on his... | -9.8M |
| | #4 &nbsp&nbsp&nbsp | Hit The Road Jack | Ray Charles | When good Jate goes baaaaad... | B-9.1 |
| | #5 &nbsp&nbsp&nbsp | Not goodbye | Beth Chapman | A Jack/Kate AU video... | MB-9.88 |
| | #6 &nbsp&nbsp&nbsp | Oceanic Airlines Pre-Flight Briefing | Steely Dan | The pre-flight briefing for Oceanic Airlines. Keep your seatbelts... | B-9.9 |
| | #7 &nbsp&nbsp&nbsp | Particle Man | They Might Be Giants | Cute little Homage to 4 of the men from Lost: Jack, AKA Particle ... | MB-7.62 |
| | #8 &nbsp&nbsp&nbsp | Burn | Three Days Grace | This video is about the love, hate and rivalry between Sawyer, Ka... | B-19.5 |
| | #9 &nbsp&nbsp&nbsp | Shadow On The Sun | Audioslave | This is a character study of Sawyer. It looks at his guilt, his ... | B-22.9 |
| | #10 &nbsp&nbsp&nbsp | Porcelain | Moby | The passengers of the doomed Sydney to LA flight come to terms w... | B-12.8 |
| | #11 &nbsp&nbsp&nbsp | A--hole | Dennis Leary | Sawyer is a jerk by nature. | -12MB |
| | #12 &nbsp&nbsp&nbsp | Jesus of Lost | Green Day | A mini-recap of the characters/events during season one. | B-14.7 |
| | #13 &nbsp&nbsp&nbsp | Going Down Swinging | Fall Out Boy | Kate needs to make a choice: Sawyer who will give her an adventur... | MB-11.0 |
| | #14 &nbsp&nbsp&nbsp | Sawyer's World | Tim Wynn | It's Sawyer's world. Everyone else just lives in it. | -15mb |
| | #15 &nbsp&nbsp&nbsp | Learn to Fly | Foo Fighters | Chronicles all the struggles of the main characters ever since th... | MB-14.3 |
| | #16 &nbsp&nbsp&nbsp | My Hero | Foo Fighters | This one is about Jack! | MB-15.5 |
| | #17 &nbsp&nbsp&nbsp | Surrender | Dido | This is an AU Jack/Kate vid. Jack and Kate break up after Jack te... | MB-14.8 |
| | #18 &nbsp&nbsp&nbsp | Sinister Rouge | Bad Religion | A rather dark summary of the events leading up to the crash of Oc... | -8.1M |
| | #19 &nbsp&nbsp&nbsp | No Tears | Scarface | Homies get revenge for Scott's death. Music inspired by Office S... | -6MB |
| | #20 &nbsp&nbsp&nbsp | Sayid is Inspector Gadget | TV Theme | After watching 'Solitary' my brother and I noticed that Sayid is ... | -6.1M |
| | #21 &nbsp&nbsp&nbsp | Fear | Sarah McLachlan | Kate's Journey | B-9.43 |
| | #22 &nbsp&nbsp&nbsp | I Cant Catch You | Sixpence None the Richer | Shannon worries that she and Sayid will not last. | MB-17.7 |
| | #23 &nbsp&nbsp&nbsp | Cherish [ Claire & Sawyer ] | Sense Field | After Sawyer gets back to the island, he watches Claire and wants... | MB-10.5 |
| | #24 &nbsp&nbsp&nbsp | Lost Season 2 Trailer | Dieselboy and Glassball | This is a Lost Season 2 Trailer i hope you enjoy. | -14MB |
| | #25 &nbsp&nbsp&nbsp | Speed of Sound | Coldplay | Locke does things not all of us agree with. But if you could see... | -17MB |
| | #26 &nbsp&nbsp&nbsp | Your Horoscope for Today | Weird Al Yankovic | An astrological forecast courtesy of Weird Al! What would a fando... | -10MB |
| | #27 &nbsp&nbsp&nbsp | Skaterboy | Avril Lavigne | Hobbes proves that a Charlie Claire video doesn't have to be slow... | -10 |
| | #28 &nbsp&nbsp&nbsp | Untitled | Simple Plan | Charlie and Claire have been through so much together. Here's my ... | MB-9.56 |
| | #29 &nbsp&nbsp&nbsp | She's A Rebal | Green Day | Kate centric vid showcasing how much of a rebal and a bad ass she... | MB-9.32 |
| | #30 &nbsp&nbsp&nbsp | Vindicated | Dashboard Confessional | A Jack/Kate centric vid. | -9:24 |
| | #31 &nbsp&nbsp&nbsp | Leaving on a jet plane | Chantal Kreviazuk | The characters lives before the island... | MB-8.99 |
| | #32 &nbsp&nbsp&nbsp | Enter Sandman | Metallica | Action packed Ethan-centric profile. | MB-9.45 |
| | #33 &nbsp&nbsp&nbsp | I Need Some Sleep | Eels | Jack video showing the varying emotions Jack has had to cope with... | -8.8M |
| | #34 &nbsp&nbsp&nbsp | 99 Problems | Jay-Z | "Bitches ain't nuthin' but hoes and tricks." | -5.8M |
| | #35 &nbsp&nbsp&nbsp | You're Beautiful | James Blunt | My first vid ever. Sawyer likes Kate, but he knows he'll never be... | B-9.31 |
| | #36 &nbsp&nbsp&nbsp | Let Go | Frou Frou | Jack and Kate letting go of their past to get to the future. | MB-10.9 |
| | #37 &nbsp&nbsp&nbsp | Aerials | System of a Down | Very well made video with perfect music. | -6.8M |
| | #38 &nbsp&nbsp&nbsp | CELLS | The Servant | Action packed hole in one. | bs-9.56 |
| | #39 &nbsp&nbsp&nbsp | Easier to Run | Linkin Park | A Kate video about her dark past and how she wants to change it.. | B-9.49 |
| | #40 &nbsp&nbsp&nbsp | Karma Slave | Splashdown | Lost ensemble including eps 101-108. | -16MB |
| | #41 &nbsp&nbsp&nbsp | Perfect - Jack's Past (Remix) | Simple Plan | Jack's life has always revolved around his father. Even with his... | MB-11.2 |
| | #42 &nbsp&nbsp&nbsp | Looking Through Your Eyes | The Corrs | A look from Kate and Jack's perspective of what the future holds ... | -11 M |
| | #43 &nbsp&nbsp&nbsp | Haunted - Kate's Journey | Evanescence | Kate's journey from the bank robbery to her time on the island. A... | B-9.16 |
| | #44 &nbsp&nbsp&nbsp | Nothing compares 2 u | Sinead O'Connor | Skate vid totally dedicated to the raving Sawyerette Miss Aislynn... | -9 MB |
| | #45 &nbsp&nbsp&nbsp | Brand New Day | Forty Foot Echo | A Sequel to my Sidewalks vid. | -13 M |
| | #46 &nbsp&nbsp&nbsp | Jack/Kate movie trailer | Michelle Branch | Well...just like the title says. Its a Jack/Kate movie trailer. | B-7.5 |
| | #47 &nbsp&nbsp&nbsp | Tarzan and Jane | Aqua | Sometimes Sawyer and Kate seem a bit like Tarzan and Jane. A Skat... | B-9.39 |
| | #48 &nbsp&nbsp&nbsp | Winter Overture | Clint Mansell | NOTE: I started making this before I found out LAURA4LAD had made... | B-12.8 |
| | #49 &nbsp&nbsp&nbsp | Where Sawyer Knows Your Name.. | Cheers | Sawyer has a great knack at picking nicknames for people. Hurley ... | B-14.3 |
| | #50 &nbsp&nbsp&nbsp | BALD Recruitment | The Island OST | September 2005 contest 1st place winner! | B-10.3 |
| | #51 &nbsp&nbsp&nbsp | Clint Eastwood | Gorillaz | A character study of everyone's favorite creepy guy, Locke. | -10.8 |
| | #52 &nbsp&nbsp&nbsp | Hallelujah | Rufus Wainwright | Inspired by "The Moth", detailing Charlie's rise, fall, and redem... | B-14.6 |
| | #53 &nbsp&nbsp&nbsp | Lockum | Emiliana Torrini | A little ditty about Locke and Gollum, and how eerily similiar th... | -12 M |
| | #54 &nbsp&nbsp&nbsp | Return to Innocence | Enigma | An uplifting mix of music and all the characters. Beautiful trans... | B-12.7 |
| | #55 &nbsp&nbsp&nbsp | Vengeance is Thine | Ice-T | Vengeance for Boone | -7 MB |
| | #56 &nbsp&nbsp&nbsp | Pre-Flight | Death Cab For Cutie | This is my first lost vid. Its all about the castaways before th... | -9.94 |
| | #57 &nbsp&nbsp&nbsp | Spectacular Spectacular! | Moulin Rouge | A musical pitch for the show. What network could say no to this? | B-12.2 |
| | #58 &nbsp&nbsp&nbsp | Scars | Papa Roach | This vid is about Jack & how he cares a bit too much. | MB-9.16 |
| | #59 &nbsp&nbsp&nbsp | Running Away | Hoobastank | A Jack/Kate vid, from Jack's POV about how Kate was "Born to Run"... | MB-8.07 |
| | #60 &nbsp&nbsp&nbsp | Word Up | Korn | A montage of characters and recent events. I love this song. Lost... | -9.4M |