Welcome to LVI's First Annual Anniversary Celebration!!!
Please enjoy our multitude of activities to commemorate this historic moment for our site. We have some exciting prizes for our Thanksgiving contest thanks to Kim Stahl of our affiliate Rygwood Labs so be sure to check out that contest and give it a shot. Also, we have an ultra exciting tournament that will be running for the next six weeks to name the best Overall Video on our site. Be sure to keep up with that.
&nbsp
Contests
The LVI Video of the Year Tournament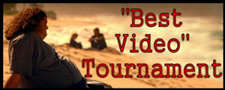 Over the past year many great videos have been submitted to LVI. As with all great award events it has come time to name the overall "Best Video" on LVI. All videos submitted to LVI prior to October 28th were eligible to be entered. The LVI Council has gone through and picked a select number of videos that we feel worthy of holding this ultimate honor. Some Council Member and Former Council Member videos will be entered as well. Come watch the tournament as it progresses and be ready to cheer on your favorites. If all goes well this will become an annual event. So grab a tub of popcorn and get comfortable for the ultimate video showdown!
The LVI Categorical Vote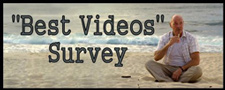 As with any award event, while we work through the tournament to name the "Best Video of the Year" there are also other categories to consider. With these public polls, the best of a number of categories will be decided, including "Best Humor Video" "Best Jate" and many others.
&nbsp
Looking Over the Year
On November 16, 2004 LVI went live. The site was founded to be a new kind of fan video site. It was designed to be a video site the likes of which the internet fan vidding world had never seen before. Our goal from the beginning was to provide a service to the Lost vidding world. While the general look and feel of LVI has changed over time we never lost sight of that goal.
We also wanted to set up a community where new and experienced vidders alike could learn from each other. To bring out the best in ever vidder we have provided an incentive in our

Council Pick seals. As we work to continue providing a service to this fandom we also hope to be the first step in a revolution of the vidding community. In the coming days and months there will be many additional services added to the site all in hopes to make sure you get everything you want out of your visits. By making LVI the best we can, I hope it will prove to other fandoms that a site like LVI can really work.
From the beginning this site was a leap of faith because, as far as I know, nothing like this has been attempted before. We've gone through many changes since the beginning and changed policies a few times but it has all been to allow us to bring our visitors the best possible service.
Now for some thanks.
Enchirito, what can I say about you that I haven't said a million times? You are the best Webmaster I have ever encountered and it's because of you that my vision for LVI became a reality. I will always be appreciative of the faith you put in my crazy idea and me. LVI exists because of you and that is something that "thank you" doesn't seem to cover. Just know you have my deepest respect and gratitude.
Warren, you were a wild card in the beginning. The last name to come up for the final seat on the original council. Who would have known how much we would come to rely on you and your incredible dedication to LVI. You have constantly impressed me and everyday you go above and beyond the call of duty. I don't think people realize just how much you do and I want everyone to know right now that LVI has held onto its stance for excellence due to Warren's hard work to help keep the integrity of LVI strong.
Laura, Charmax, Jake, Nate, Molly, Holly, and Ruth what can I say to all of you but you're all amazing. Laura, Charmax, and Jake: we loved having you on the Council and we were sad when each of you decided to leave but I want you to know that I will always consider you a part of the LVI family. Nate, Molly, Holly, and Ruth it just so happened that when each of you came in we seemed to be in the midst of either a format change or a crisis of some sort. But each of you jumped right in and started to help out so thank you for not quitting during the tough times. You've all more then proved yourselves and I'm proud to call you not just members of the council but friends.
I'd like to take a minute to thank all of you that visit LVI. We didn't know if LVI would work in the beginning but all of you have stood behind us and through your dedication to us you have given us the drive to keep improving. To vidders and watchers alike, on behalf of the entire LVI Council I extend to you our deepest appreciation and thanks.
LVI exists for and because of each and every one of you! Here's to whatever the next year will bring for LVI. I promise no matter what comes our way LVI will be here as long as you guys want us around.
LVI, Revolutionizing Fan Video Making.
-
Lostcalier