Please Don't Go (Jack/Juliet) by scarlett_106
Details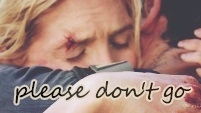 Watch and Discuss!
"Please Don't Go (Jack/Juliet)"

09-25-2014

I'm a Jater, but Jacket always struck me--what they had was so beautiful and real, if short-lived. The kiss and hug toward the end of the vid was, to me, their goodbye moment, even though it technically wasn't. They both knew that he couldn't shake his fe

Length: 4:35 (272 MB MP4)

Program: Sony Vegas

Characters/Ships: Jack, Juliet,

"Jacket"
Comments: