Bill, Ted and Marty's Excellent Adventure Part 2 || Crossover by Jemmz
Details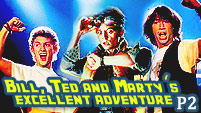 Watch and Discuss!
"Bill, Ted and Marty's Excellent Adventure Part 2 || Crossover"

10-03-2012

The second part to my Back to the Future/Bill and Ted's Excellent Adventure crossover. Bill, Ted and Marty go on an excellent adventure through time.

Length: 8:15 (288MB wmv)

Program: Sony Vegas 7

Characters/Ships: Marty McFly, Ted "Theodore" Logan, Bill S. Preston Esq.
Comments: